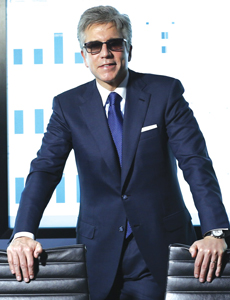 Bill McDermott, CEO
Organizations today are learning quickly that a learning strategy that is dominated by instructor-led training (ILT) is not a long-term strategy. More than three-quarters of organizations say that formal learning experiences like ILT are either important or critical to their business, and informal learning experiences are seen as just as important. However, 86 percent of the companies say that experiential learning is important and critical to business. In a world of multi-modal learners, organizations are quickly finding out that their LMS needs to be multi-faceted. Many companies are relying too heavily on legacy systems that do not provide the latest technological advances to support multi-generational learners. Learning and development within companies has reached a new level of sophistication and complexity. In order to address this challenge, organizations must adopt a new approach to learning and development and the leveraging of a learning management system. Coming to their helm is SAP Litmos. The company's Learning Management System (LMS) powers training for today's intelligent enterprise. It's the engine behind some of the most sophisticated training programs in the world with the capacity to scale to millions of users, a next-gen feature set, and an interface best known for streamlined simplicity and incredible ease-of-use.
"We offer an API that allows you to seamlessly share information between the LMS and your other systems"
The LMS gives training professionals everything they need to manage their entire training program from one secure, centralized environment. A cloud-based solution that unifies virtual, classroom, mobile, and social learning, SAP Litmos LMS empowers training departments, sales and service leaders, safety and compliance managers, and HR teams to collaborate, author, globally distribute, and track web-based training courses, as well as schedule and track instructor-led courses. It automates formerly burdensome tasks so that teams can focus their energy on aligning training with the company's strategic agenda. "Our focus on fostering a culture of continuous learning in the corporate environment, has helped us deliver the most innovative and engaging learning management suite on the market," says Bill McDermott, the CEO of SAP SE.
Changing the Face of Corporate Learning
So how is SAP Litmos so different? No matter what an organization's goals for learning are—growing sales, improving productivity, increasing engagement, reducing risk, or maintaining compliance—SAP Litmos Learning Management System (LMS) helps in reaching them. A cloud-based solution that unifies virtual, classroom, mobile, social and e-commerce capabilities in a single, secure and scalable platform, SAP Litmos LMS empowers training departments, sales leaders, safety and compliance managers, and HR teams to collaborate, author, globally distribute, and track web-based training courses, as well as schedule and track instructor-led courses. Learners of all abilities and positions—employee, franchisee, partner, or customer—gain anywhere, anytime access to a library of self-paced courses within an intuitive user interface, consistent across mobile devices.
SAP Litmos LMS provides an array of packaged integrations that allow businesses to painlessly connect their learning data and training programs to critical information systems and applications. Proven integrations reduce the strain on IT, increase user adoption, shorten time to value, and provide better opportunities for blended learning. "We also offer an API that allows you to seamlessly share information between the LMS and your other systems," adds McDermott.
We have developed a proprietary adaptive non-linear content standard for assembling adaptive learning content, describing non-linear data structures and processing variable scripts
Quality Courses, Delivered Quickly
SAP Litmos LMS makes creating and publishing professional courses easy. An advanced course builder with a simple user interface allows administrators to produce dynamic learning quickly by leveraging existing content, including a wide variety of digital media files and learning packages in SCORM, AICC, and Tin Can formats. Administrators can search, find and re-purpose content from other SAP Litmos LMS courses. Pre-built modules for assessments, surveys, information pages, checklists, and instructor-led courses help training teams round out courses and receive feedback, while a course preview feature ensures error-free content. Once courses are complete and published, learners can access them anytime and anywhere. A responsive user interface ensures courses look consistent and are enjoyable, regardless of device or browser. Learners can also download courses to the SAP Litmos LMS mobile app and consume them offline.
Everyone's learning needs are different, and SAP Litmos LMS enables training teams to personalize training without adding administrative overhead. You can organize training programs by groups, teams, departments or even individuals. Within the LMS, you can schedule and track live, instructor-led training sessions as well as track online courses. It's simple to design and automatically issue certifications of completion for modules and courses, and automatically send messages and notifications based on course assignments, course completions, ILT registrations, quiz completions and more. Out-of-the-box, real-time reports help track course completion and satisfaction, or you can build your own using the built-in report builder tool.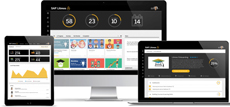 Maximizing Learner Engagement
For users expecting delightful and simple digital experiences, SAP Litmos LMS delivers with a visually intuitive and interactive experience that is just as engaging on a smartphone as a desktop. Learners easily search for and find courses, consume rich content at their own pace, make notes, offer immediate feedback, and learn while on the go, whether they are connected to a network or not. Discussion groups and social tools that connect learners together facilitate collaboration and deeper learning, while certificates, badges, and leaderboards encourage content consumption. After learners have finished a course, SAP Litmos LMS offers tools to enhance knowledge retention and reinforce key learning points. The SAP Litmos Boost app allows managers to easily schedule push notifications of important concepts to learners on any device, including wearables.
The Litmos Boost app allows learning professionals to set up a set of small "booster" questions that can be delivered at intervals to remind training participants of key takeaways. Administrators and managers can define learning boosts for content and frequency, assess knowledge retention over time, and refine learning strategy and assignments.

Delivering Quicker Time to Value

With SAP Litmos LMS, organizations can start executing your training plan and achieving results immediately. The cloud-based platform deploys in immediately and you can be up and running in weeks, not months. Proven, turnkey integrations with dozens of leading CRM, ERP, HR and content management systems deploy in minutes instead of days and reach learners in the applications they use every day. Clients can jumpstart learner adoption by leveraging SAP Litmos Courses, a rich library of prepackaged content that includes health and safety, HR and corporate compliance, healthcare compliance, information security, sales training, and more. With more than 600 titles, organizations are sure to find courses that help their employees work smarter and perform better. An emphasis on quality instructional design, content delivered by industry-leading subject matter experts, and a combination of video, animations, and interactive components all ensure learners retain more information.

Further, Litmus LMS supports multiple languages, and e-commerce capabilities allow for different taxation plans and currencies. Turn training into source of revenue by using the native SAP Litmos e-commerce shopping cart and Paypal and Payment Express integrations to sell courses worldwide, or leverage integrations to create a Shopify store to sell courses as Shopify products. Sometimes companies want to grow training from a productivity and engagement tool into a profit centre. In addition, SAP Litmos Commerce makes it easy to automate, manage, and monetize the business of external training. Native integrations with popular customer service, ERP, and financial systems streamlines course delivery, tracking, and billing.

The LMS Leaders

From small organizations to multinational enterprises, SAP Litmos LMS is a world leader in corporate learning. For instance, Air General relies on SAP Litmos to deliver training for new hires as well as ongoing learning for its teams. The SAP Litmos platform enables the company to automate training programs that were formerly managed manually in spreadsheets and slide decks. The company cites the SAP Litmos learning platform as the driver behind improvements in its employee base and a significant reduction in employee turnover. "When SAP Litmos came to us and we started developing a strong course base for our new hires, the learning process became much stronger, the employee became stronger, and our turnover has greatly decreased basically because of the amount of training we've done in SAP Litmos," says Timothy Cotter, the training and compliance manager of Air General.

With more than 20 million courses completed in 130 countries, SAP Litmos LMS is the learning platform of choice for thousands of clients. Numerous security certifications, data encryption, high availability deployments, strict authentication and application security, and other features make SAP Litmos LMS the leading choice for healthcare, finance, and other regulated industries. Agile development and product advances such as 360-degree videos and support for wearables make SAP Litmos a leader in learning innovation.

- Selena James
May 31, 2019