Next Generation Learning Management System
By May Lit, Associate Director, Learning Systems and Technologies, Integrated Information Technology Services, Singapore Management University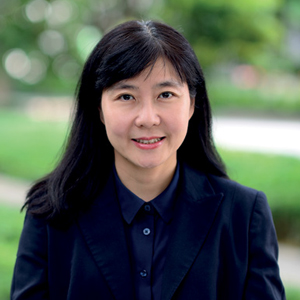 May Lit, Associate Director, Learning Systems and Technologies, Integrated Information Technology Services, Singapore Management University
Learning Management System (LMS) originated as an administrative system for educational institutions in the late 1990s. Its strengths lie in course management, and most functions are instructor-centric. While there is high LMS adoption rate in the last 20 years in established educational institutions, its success is mainly in the administration of learning rather than enabling learning itself.
As education evolves, the demands in teaching and learning have also increased correspondingly. New educational models, new disciplines, new teaching methods, and a new generation of learners have emerged. The successes of social media and e-commerce platforms have raised the youth learners expectations of LMS significantly.
Learners expect friendly user experience design, seamless process flow, flexible integrations, fast scalability, and smart analytic features from formal systems like LMS. There is also a strong impetus to change the instructor-centric design to learner-centric design. Instead of just focusing on course administration efficiency, more attention is placed on learner's success today. However, assessing student learning outcomes and success has been a daunting task for many institutions for centuries. There has been no scientific way to do this until technology for big data came along and brought with it hope and possibilities.
To remain relevant and to meet the educational needs of the 21st century, the next generation LMS should bear the following attributes.
Learning Effectiveness
• Learning Analytics
Over the years, large volumes of data on the interactions between the instructors and learners with LMS have been captured in the system. It is time to convert such data into useful, actionable information. These transactional data provide insights into the teaching style of the instructors and the learning behaviors of the learners. With in-depth data analysis, we can discover gaps in teaching and learning quickly, and effective interventions can be designed.
• Personalized and Adaptive Learning
With learning analytics, if we can understand each learner's behavior, we can personalize an individual learning path that caters to each learner's strengths and weaknesses for a better learning outcome. We can overcome the shortcomings of the traditional One-Size- Fits-All educational model.
• Mobile Learning and Responsive Design
For frequently used systems, users are increasingly expecting such systems to be mobile-friendly. An effective LMS must support learners' needs of learning anywhere, anytime on any device.
• Social Learning & Portfolio
Besides catering to instructor-led learning model, the new LMS must also support social learning by allowing people to learn from more than one source, build bridges to facilitate knowledge exchange, provide features to showcase learners' work, and capture reflections in learning journeys, thereby adding new dimensions to learning.
• Gamification Support
Besides scores and grades, modern learners expect other forms of recognition such as badges, leaderboard and leveling, peer recognition, as well as useful feedback to keep them engaged and motivated in their learning journey.
• Progress Tracking and Competency Measurement

Apart from the features that support teaching and learning, an effective LMS should blend the measurement feature into their content and learning activities seamlessly. It should have intelligent progress and competency tracking capability for each learner across courses and school terms, as well as statistical and visualization functions to present the data both at the micro-level for instructor and student-level a, and at the macro-level for program/curriculum designated analysis and planning. This will help institutions to make data-driven improvements regularly over time.

Administration and Security

• Strong Integration and Interoperable Capability

Better connectivity among systems, support seamless process flow and better user experience. It broadens users' choice of solutions, and it supports holistic data analysis. The next-generation LMS should not adhere to proprietary standards; instead, it should support agreed eLearning Data Exchange Standards and allow users to draw on content from different sources to make learning engaging and interesting. Over the years, many digital resources have been created by Publishers and Open Educational Resource (OER) community. Linking to these resources will save instructors' time in content creation and lower the cost for institutions and learners in the long run. Having broad access to different content may also cater to learners' different learning styles better.

• Course Planning and Recommendation

One common complaint in traditional LMS is that it is too course-centric. There is no relativity among courses, and it impedes the rounded development learners need. A truly effective LMS should capture learners' progress in different areas and provide holistic guidance to the next step in learning.

• Strong Protection from Cyber Threats

As users of LMS become more tech-savvy, next-generation LMS will need to have strong security controls to guard its personal, grade, and exam data, to protect the institution's reputation and ensure academic data integrity and fairness. However, this can be challenging. On the one hand, the LMS has to be open and provide convenience to support interaction and learning input; on the other hand, it has to guard against inappropriate use.

• Content & Digital Rights Management

Digital resource theft is prevalent. Next-generation LMS should have better digital rights control features to protect the intellectual properties of instructors and learners.

• Agility in Administration

Previously, LMS only needed to handle structured courses with a fixed schedule. Today, modern institutions expect LMS to handle short and ad-hoc courses, competency-based learning with no fixed timeline, cater to different registration mode (auto, batch, self) and more.

User Friendliness

• Intuitive Design

Similar to commonly used solutions in our daily life, learning solution should be easy to use and does not require user training for most of its functions. A user-friendly LMS must have a simple design to achieve complex tasks. It should have easy to understand guidance at different junctures of the system to help users complete their tasks independently.

• Assistive Technologies

Recent studies have helped us understand people with special needs better. The physical environment is changing to be friendlier to meet such demands. Similarly, a virtual environment like LMS, if given the right considerations and adopt assistive technologies, can be made more inclusive and help learners with special needs to learn effectively.

Extensibility and Cost Effectiveness

• Customization

Regardless of how many features an LMS has, it can never fully meet an institution's needs. It is essential for an LMS to provide room for customization to their system and let institutions design and construct useful components to address the gaps in the native features.

• Affordability

Cost cutting is real in the education sector. The wise use of technologies can lower the cost of solutions. If the vendors of next-generation LMS can collaborate well with other eLearning tools vendors, coupled with smart integration with freeware and the right protection, they may be able to offer a feature-rich learning system without a shockingly high price tag.

With economic uncertainty, the consolidation of institutions in the developed countries, and the emergence of new collaboration tools from Google and Microsoft that support learning, the LMS market is currently facing a slowdown in the US and Europe.

Perhaps LMS vendors should take this opportunity to re-strategize, develop their nimbleness and revolutionize their products to incorporate the next-generation LMS attributes. It will improve their capability to cater to the learning styles of the millennials and beyond, support lifelong learning, and sharpen their competitive edge to create the next wave of digital disruption in online education