Evolving Learning Management Systems into Learning Platforms
By Stephen Marshall, Associate Professor, Centre for Academic Development, Victoria University of Wellington, Wellington, New Zealand and President, Australasian Council on Open, Distance, and E-learning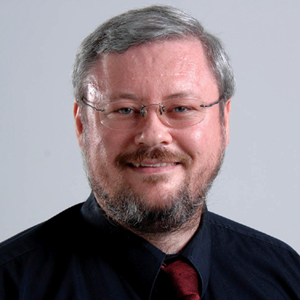 Stephen Marshall, Associate Professor, Centre for Academic Development, Victoria University of Wellington, Wellington, New Zealand and President, Australasian Council on Open, Distance, and E-learning
The Learning Management System (LMS), or Virtual Learning Environment (VLE), is widely regarded as a key element of the modern university learning infrastructure. The LMS business is estimated at over US$9 Billion in 2018 and is expected to grow as demand for educational services extends beyond the academic and government segments where most activity currently occurs. Universities typically operate LMS software offered by the major higher educational vendors, including Blackboard (both Learn and Ultra), Canvas, Moodle and Desire2Learn, with these four products representing over 90% of the North American and Australasian university market.
In addition to these major players, a vast array of other LMS products are available, aimed at school education, corporate training, and supporting specific learning models, languages and local cultures. The rise of the Massive Open Online Course (MOOC) has seen the creation of a range of LMS products designed to operate collaboratively between many institutions. These are used to offer a range of courses that initially were distinct from formal offerings, but that more recently include hybrid courses. These hybrid experiences are integrated into formal university recognition systems allowing degrees to be awarded based, in part, on MOOC experiences drawn from multiple providers.
The evolution of the LMS can perhaps be best understood by considering, in turn, each of the three words in the name. Learning is recognized as a critical success factor for both organizations and individuals. Increasingly learning is positioned as a continuous process, with the growing use of a variety of disaggregated learning experiences aligned to specific needs, flexible in respect of time constraints, responsive in their delivery of immediate value, and aimed at learners and organizations far less interested in certification than in realized capability.
Management has shifted from tools of passive control and authority to an evidence-driven active process that uses data to generate opportunities for the enterprise to create greater value. The focus is shifting from information that addresses where we have been, to information that provides options for future action.
System conceptions and expectations are also rapidly evolving as distributed systems architectures enable collaborative business models, disaggregation of monolithic in-house applications, and an agile approach to the range of features and tools available to users. Organisationally the reality of the LMS is now a complex web of systems integrated locally with others operated by a range of vendors on cloud sharing platforms. This is more than a shift of hardware to the virtual cloud environment or outsourcing of complex technical functions.
The role of the LMS within the learning platform is as a tool supporting user and organization management of their learning across a range of contexts
It reflects a desire to have systems that sustain current activities but also allow for rapid shifts in focus, scale, and context without the historical constraints of sunken investment in traditionally constructed systems.
The affordances of modern LMSs need to help learners focus their energy on tasks and outcomes that deliver value in the short term. To support this, the tools and features available to learners and instructors have to be able to be quickly substituted with different or improved versions that interoperate effectively. LMS architecture is evolving to enable a dynamic process of unbundling and rebundling, with the decisions about structure and purpose defined by the users on an individual basis rather than generically applied. This presents challenges both for the management of information derived from learner activities but also in the user expectation that tools "just work," avoiding the need for detailed training to be useful.
Slightly further out, emerging machine learning and specialized artificial intelligence tools are widely expected to start adding value to learning management, although there has been some over-hyping of the technological capabilities of current systems, particularly in the MOOC space. Potential applications include the ability to provide personalized interactive feedback drawing on analysis of student information use and assessment activities, adaptive learning designs that focus student work on areas needing development, and performance analysis systems that can help organizations proactively engage with learners to provide context-specific support.
Increasingly, rather than a product model of the LMS, organizations need to focus on the Learning Platform, a conception that extends from a technological construct defined by a vendor to consider the broader physical and organizational context that frames enables and sustains learning within the organization. At Victoria, we see this platform supporting a student experience facilitated by technology that spans both the digital and physical learning environments (Figure).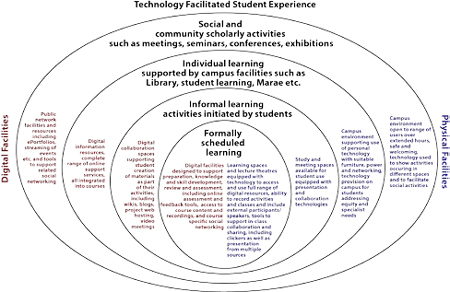 The role of the LMS within the learning platform is as a tool supporting user and organization management of their learning across a range of contexts. This shift is informing a different conception of the LMS and opening the door for collaboration platforms offered by Microsoft and Google. The challenge with these tools currently is the lack of management features supporting instructor or academic oversight of student work for purposes of feedback, summative assessment, and validation/ verification. The shift to models of learning that are more project-based, collaborative and assessed by peer review and reflection means that this is less of an issue than under traditional models of instructor-led classroom teaching and old fashioned forms of assessment such as essays and exams.
A future-oriented LMS responding to these expectations needs to be quite different from the traditional conception. The focus of the system needs to be on the learner, the options and opportunities that it provides must increasingly reflect a sophisticated understanding of their needs. The lesson of the MOOC is not just the supposed disruption of the traditional models of qualification and provision, but also the unmet demand for flexible and responsive continuous professional development recognized through its immediate realized value to the learner, rather than by external validation of formalized qualifications. Organizations need systems that are able to support a diverse range of learning models, while also enabling those managing and supporting the learning process. A modern LMS must be more than a product, it must be a process, a representation of the dynamic reality of modern learning and the values of the organizations using its facilities.